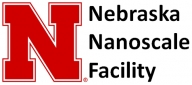 Nebraska Nanoscale Facility (NNF)
NNF serves the Midwestern region of the US by providing open and affordable access to state-of-the-art facilities, expertise, training and services in nanoscience, nanotechnology, material science and engineering to users from academia, industries and government labs.
Primary University: University of Nebraska - Lincoln
Getting Started
Contact Jacob John or one of the NNF user contacts. Define your project goals, processes, and tool needs in consultation with our technical staff. No formal proposal is required. Both on-site and remote services are available.
Establish a user agreement with Nebraska Nanoscale Facility/Univ. of Nebraska Lincoln.
Attend orientation, safety, and tool training.
Begin work.
External users who need facility services can send samples directly to the Research Specialists/Research Technologists after step 3 or in some cases after step 2.
Need help?
New User Gateway
---
Facilities
Included as part of this site are:
---
Equipment
Overview of Available Tool Areas
Site Contacts
Jacob John

NNF Coordinator and Primary User Contact

402-472-6147

Anand Sarella

Research Technologist and Secondary User Contact

402-472-6087

Andrei Sokolov

Research Technologist and Secondary User Contact
View All Staff