Societal and Ethical Implications across the NNCI
The NNCI Coordinating Office works to help the various member institutions of the NNCI develop and coordinate their efforts in the Societal and Ethical Implications (SEI) of Nanotechnology.
In these efforts we do work in both micro- and macro-ethics, with an emphasis in the latter since few science or engineering programs address those important issues. We look at both the social impacts of nanotechnology and the social aspects of nanotechnology.  We address the variety of societal implications associated with nanotechnology, including social change, equity issues, economics and policy. And while we do include "environmental issues" on this list, because others spend tens of millions of dollars to study the impact of nanotechnology on the environment, they are not our primary focus.
NNCI SEI scholars engage in a wide variety of activities. Much of it not only examines the social aspects of nanotechnology, we conduct that research through conversations between social scientists, humanities scholars, natural scientists, and engineers. Below is an introduction to some of the projects currently being done in the area. For more information about activities across the network, please contact the NNCI Coordinating Office Associate Director for SEI Jamey Wetmore (jmwetmor@asu.edu).
********
Southeastern Nanotechnology Infrastructure Corridor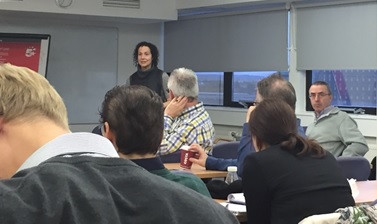 The aim of the SEI work at SENIC is to increase attention to application of nanotechnology, while still attending to social and ethical implications. This work is based at Georgia Institute of Technology. There are two main SEI activities at SENIC: (1) nanoinformatics, which involves the development of nanotechnology publication and patent databases for use in informing and guiding SENIC, and (2) design and exercise development with attention to social and ethical activities important to nanotechnology that parallels the Innovation Corps (I-Corps) process.
Nanoinformatics: Georgia Tech assembles and analyzes datasets based on Web of Science publication and PATSTAT patent information. These datasets have been obtained using a search strategy described in an article published in Scientometrics, 2013. We use this information to inform SENIC participants about trends in nanotechnology so that they can stay abreast of future scientific and technological needs. We also use this information to help broaden participation in SENIC by targeting potential new users in the region.
I-Corps SEI: I-Corps is a program designed to speed commercialization of science-based research using lean customer discovery processes. Georgia Tech is one of the largest training nodes for the I-Corps program.  SENIC's SEI program designs and create exercises that incorporate societal considerations relating to nanotechnology into the I-Corps methodology around the "Business Canvas Model."
For more information about the SEI efforts at NCI-SW please see our website or contact Jan Youtie, the SEI coordinator, directly at: jan.youtie@innovate.gatech.edu
**************
Research Ethics Program, UC San Diego
The Research Ethics Program was founded in 1997 to promote research integrity and to provide training in responsible conduct of research for the UC San Diego campus. The Program provided a foundation for research on research integrity, resources for teachers of research ethics (Resources for Research Ethics Education, and public engagement around the ethical challenges of new developments in science and technology (Center for Ethics in Science and Technology). Although a focus on ethics in nanotechnology is new to UC San Diego, plans are underway to add this topic to the research ethics resources website, and at least one program is now being scheduled through the Ethics Center. Programs of the Ethics Center are captured by UCSD-TV, which reports that on average, subsequent views of each program are in excess of 125,000.
For more information about these efforts at UC San Diego, contact Michael Kalichman, director of the Research Ethics Program and of the Center for Ethics in Science and Technology, at mkalichman@ucsd.edu
*******
NNCI Texas Nanofabrication Facility
Lee Ann "LeeAnn" Kahlor, Ph.D., is the Director of Social and Ethical Implications (SEI) for the NNCI Texas Nanofabrication Facility at the University of Texas at Austin. Kahlor also is the Associate Director of the Stan Richards School of Advertising and Public Relations at UT. Kahlor's team conducts qualitative and quantitative research on 1) scientists information seeking and sharing related to SEI, 2) perceived barriers to the integration of SEI into the workplace, and 3) how organizational roles may work against such integration. The team's goals are to publish initial findings, while concurrently developing and piloting an evidence-based SEI training module that can help integrate SEI into the workplace in meaningful ways.
More information can be found at:  http://www.mrc.utexas.edu/nnci
********
Research Triangle Nanotechnology Network
David Berube, Ph.D., leads the societal and ethical implications of nanotechnology (SEIN) team for the Research Triangle Nanotechnology Network (RTNN). RTNN is a partnership between North Carolina State University, Duke University, and the University of North Carolina at Chapel Hill and it is comprised of eight research laboratories and the coordinating office. RTNN provides unprecedented access to nanotechnology facilities in the Research Triangle area for both commercial and academic researchers.
RTNN provides education, workforce training, outreach programs, and comprehensive nanotechnology resources for society including news, forthcoming Public Alerts, and an ongoing development—a coordinated Clearinghouse of informational and instructional videos on its website www.RTNN.org. The RTNN SEIN team performs assessment on all outreach and education initiatives of the network (both on site and online), conducts research on organizational Team Science, Virtual Reality/Augmented Reality as tour adjuncts and off-site outreach, maintains a social media presence on Twitter, Facebook, and LinkedIn, publishes the Nano Hype blog [hyperlink: https://www.rtnn.ncsu.edu/resources-for-society/nano-hype-blog/], and offers a variety of materials through its developing audio-visual and textual clearinghouses to help scientists, teachers, students, and the general public better understand the societal and ethical implications of nanotechnology.
For more information, please visit www.RTNN.org or contact RTNN SEIN Coordinator Prof. David Berube at: dmberube@ncsu.edu.
*******
Nanotechnology Collaborative Infrastructure Southwest (NCI-SW)
The NCI-SW SEI program builds on the research and programs developed at the Center for Nanotechnology in Society (CNS), an NSF funded Center at Arizona State University that ran from 2005-2016. The goal of the SEI program is to make available the tools that were initiated at CNS to a wide range of researchers.  The program does that through two major initiatives:
SEI User Facility: Scholars at Arizona State University have been working for over a decade to develop a number of tools that can help scholars better study the social aspects of emerging technologies.  We are making those tools – including things like scenario planning, laboratory engagements, collaborating with natural scientists and engineers, engaging with the public, and museum collaborations – available to other scholars through an SEI User Facility.  Scholars interested in being introduced to these tools and finding ways to integrate them into their research are invited to visit ASU for a visit (of lengths from 1 day to several months) to learn from faculty and postdocs.
Science Outside the Lab: Every summer NCI-SW sponsors a week long "Science Outside the Lab" program on nanotechnology.  Science Outside the Lab brings a small cohort of graduate student scientists and engineers to Washington, D.C. to explore the relationships among science, innovation, and policy. The goal is to expose participants to as many different viewpoints as possible and help them understand how people and institutions influence and learn from science. Participants will meet and interact with congressional staffers, lobbyists, funding agency officers, regulators, journalists, academics, museum curators, and others to learn how and why nanotechnology and other emerging technologies are funded, regulated, shaped, critiqued, and publicized.  Applications for the program are usually requested each winter.
For more information about the SEI efforts at NCI-SW please see our website or contact Jameson Wetmore, the SEI coordinator, directly at: jmwetmor@asu.edu
******
Northwest Nanotechnology Infrastructure
Scholars at the University of Washington and Oregon State University are engaged in a number of outreach and workforce development efforts that overlap with SEI. For more information contact Daniel Ratner at dratner@uw.edu.
******
Montana Nanotechnology Facility
Researchers at Montana State University and Carleton College are working to develop a series of case studies related to nano science to be embedded in a variety of STEM curricula. For more information please contact: David Mogk at mogk@montana.edu