NNCI Image Contest 2020 - Stunning
Most Stunning
This category celebrates the beauty of the micro and nanoscale. Please check out the images below and read a little about the research behind them.
Purple Rain
Artists: Isabelle Gordon, PhD Candidate, and Sophia Randak, Junior Undergraduate at Montana State University
NNCI Site: MONT
Tool: Optical Microscope, LabRAM HR Evolut
A close-up view of phosphorus-doped graphitic carbon. Heteroatom doping of graphite by elements such as Boron, Nitrogen, Phosphorus and Sulfur allow for the selective tunability of structural and electrochemical properties. Phosphorus-doped graphitic carbon, in particular, is expected to have significant advantages towards energy storage applications. This image, captured by optical microscopy, shows the surface of a phosphorus-doped graphitic carbon flake. A layer of bulk phosphorus is believed to reside on the surface of these flakes giving rise the oily/rainbow regions observed.
Springtime in a Flexure
Artist: Zheyi Han, Graduate Student, University of Washington
NNCI Site: NNI
Tool: Nikon Eclipse L200 Inspection Microscope
The flexure backbones of an electrostatic micro-actuator for a miniature tunable lens consist of "flower"-patterned release holes. Though created with dull-colored silicon, the flexure produced the gorgeous hues of springtime with its surfaces and edges under the polarized light of a microscope.
Stars Falling from the Milky Way
Artists: Zihao Lin, graduate student, and Jeong-Hyun Cho, faculty member, Department of Electrical and Computer Engineering, University of Minnesota, Twin Cities
NNCI Site: MiNIC
Tool: Nikon ECLIPSE LV 150
Art in science is often discovered unintentionally. We aimed to fabricate devices via a series of fabrication procedures (electron beam lithography, e-beam evaporation, reactive ion etching. and focus ion beam processing). But darkfield microscopy was used by mistake to observe the sample after the above procedures, yielding this image. We attribute this to the scratches and cracks during the fabrication procedures. The image evokes stars falling from the Milky Way in a dark peaceful sky.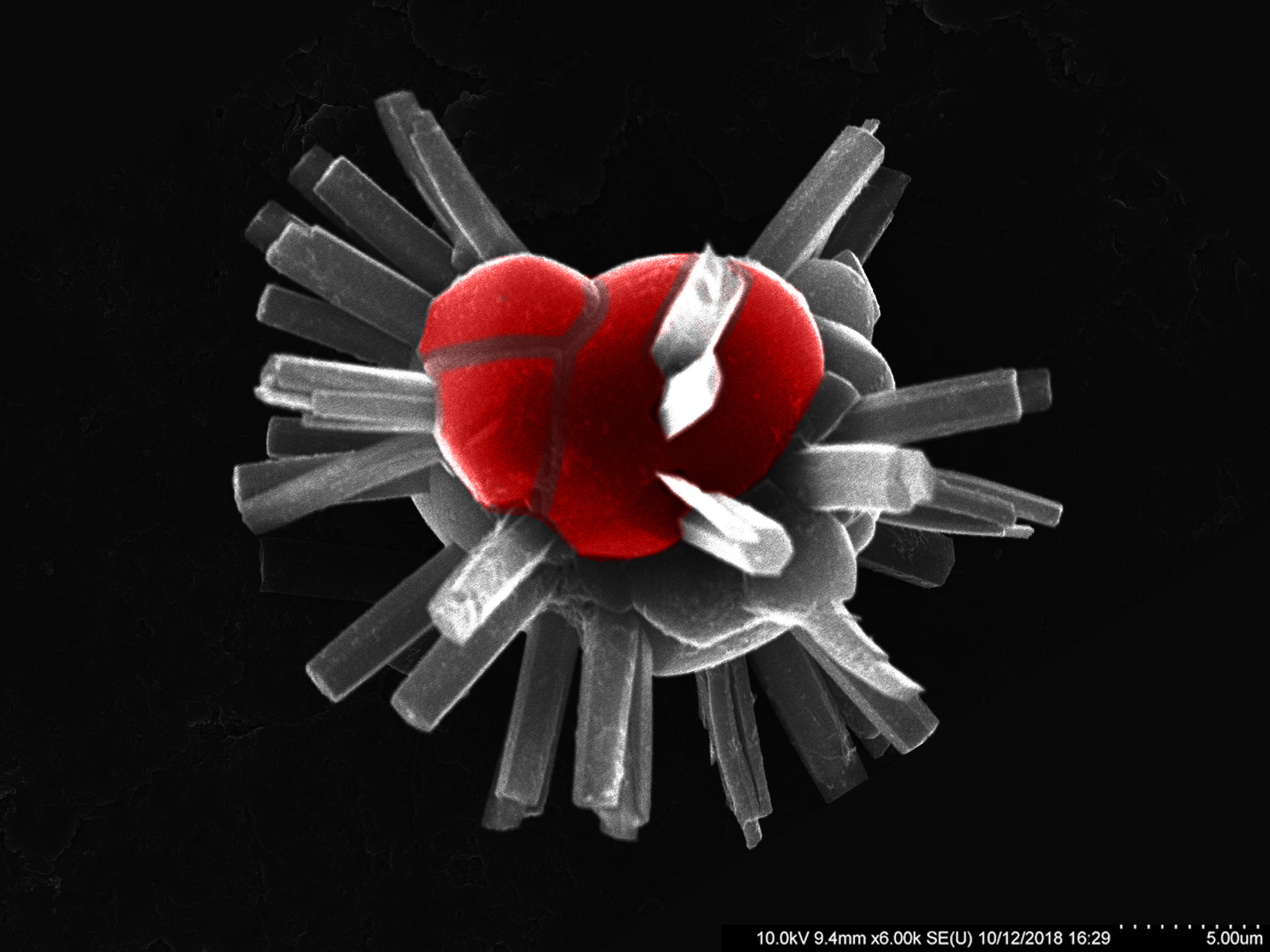 The Crystal Heart
Artist: Timur Islamoglu, Research Associate, Northwestern University Department of Chemistry; Farha Group
NNCI Site: SHyNE
Tool: Hitachi SU8030
The metal-node and the linker of a metal-organic framework can assemble in multiple-ways resulting in different topologies. While the reaction conditions can be optimized to obtain phase-pure product, some reaction conditions can produce both polymorphs. This image shows crystals of a Zr-MOF grown out of a crystal which is a polymorph of the same MOF crystallized a different topology, and therefore it shows a different crystal morphology.
Turning Allergic Cells Against Cancer Cells
Artists: Mohammad Fereydouni, PhD student, and Christopher Kepley, faculty member, JSNN, UNCG
NNCI Site: SENIC
Tool: Zeiss Z1 Spinning Disk Confocal Microscope
Human mast cells contain toxic mediators normally associated with allergic disease (e.g. histamine). Our lab has developed a new way to utilize these cells to search and destroy cancer cells through the release of these anti-cancer mediators. We took advantage of unique markers found on the surface of cancer cells that were used to immunologically direct the mast cells to cancer cells in vitro. This image represents the specific binding of mast cells (cyan) to cancer cells (purple). Upon binding the cancer cells die and turn green. Using autologous mast cells from patients represents a new strategy for treating cancers.
Scyphosphaera apsteinii
Artist: Erin Meyer, Graduate Student, University of North Carolina at Wilmington
NNCI Site: RTNN
Tool: FEI Verios 460L
The coccolithophore (single-celled algae) S. apsteinii grown in seawater with elevated concentrations of Sr. The elevated Sr disrupted the calcification of their calcite structures (coccoliths), resulting in a malformed morphology.
Optical Microscopy of 316 Stainless Steel Additively Manufactured
Artist: Kossi Loic M., Avegno, Graduate Student, University of Nebraska-Lincoln
NNCI Site: Nebraska Nanoscale Facility
Tool: Keyence Laser Scanning Microscope VK-X200K
The image is depicting the melted regions (semi-circles) of a 316 stainless steel cuboid that was manufactured using powder bed fusion (Matsuura Lumex Avance 25). Each melted region (semi-circles) in the image has two dark regions at the edge and a lighter color region at the center.
Viewed using the Helios (Scanning Electron Microscope) at a higher magnification, the dark regions are concentrations of fine small grains with a faster cooling rate. The lighter region in the center is a concentration of columnar grains which had a dendritic growth due to slower cooling rate.
Things Can Get Very "Salty" at the Nano-Scale
Artist: Dr. Evgeniya Moiseeva, University of Louisville
NNCI Site: KY Multiscale Huson Imaging and Characterization Lab
Tool: Thermo Fisher Apreo C Low Vac SEM with Energy Dispersive X-ray Spectroscopy
Detecting Traces Of Aluminum, Calcium, Magnesium And Potassium in Pink Himalayan Salt
Macroporoses
Artist: Samuel Welborn, Graduate Student, University of Pennsylvania
NNCI Site: MANTH
Tool: JEOL F7500F
This is hierarchical nanoporous aluminum: here you see the macro-scale pores, but going to higher magnification reveals a much smaller size (~5-10 nm) porous structure. We create this through a facile process called dealloying, in which a sacrificial element is removed from a multi-phase, bulk alloy. Nanoporous aluminum is highly reactive, and can be used in a variety of applications including hydrogen generation through hydrolysis. The image has only been altered by falsely coloring, lightening, and darkening certain areas.
A Harmony of Bubbles and Holes
Artist: Maja Bachmann, Postdoctoral Fellow, Stanford University
NNCI Site: nano@stanford
Tool: FEI Helios NanoLab 600i DualBeam FIB/SEM
On the surface of this thin film bubbles have formed during its deposition. Additionally, a regular grid of holes has been patterned with a FIB in order to ensure a homogenious flow of current through the electronic device while probing the resistive properties of the material.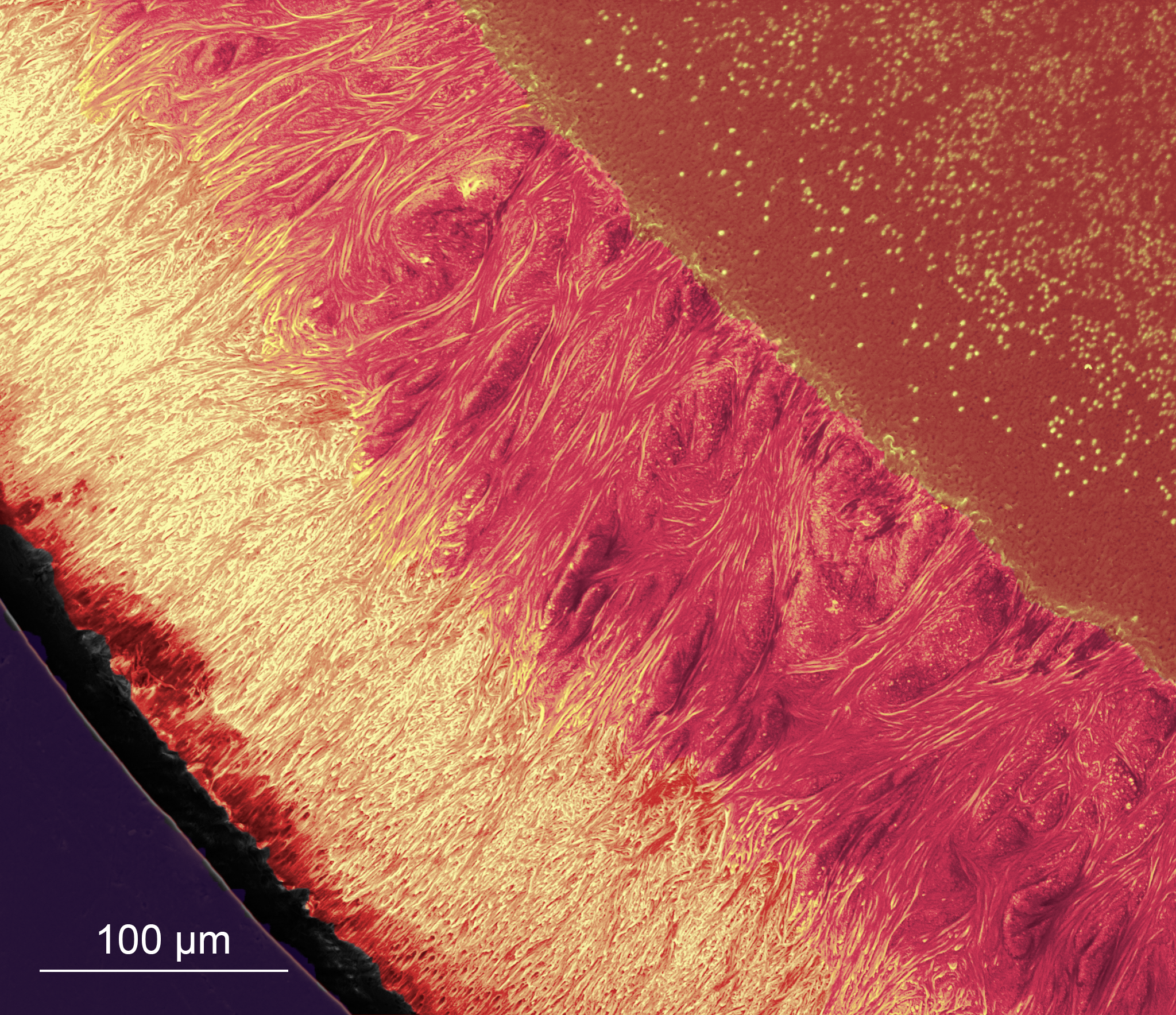 Planet Radiation
Artist: Zhifei Deng, Ph.D. Candidate, Department of Mechanical Engineering, Virginia Polytechnic Institute and State University
NNCI Site: NanoEarth
Tool: FEI Quanta 600 FEG Environmental SEM
The image shows the radiation from an unknown planet. This is a scanning electron microscopy image of a fish tooth cross-section (polished then slight etched), where the upper left corner, the "planet", is the dentin region, and the "radiation" reveals the twisted fibrous microstructures of the tooth enameloid.